Malcolm Arbuthnot (1874-1967)
Malcolm Arbuthnot was a painter, photographer and sculptor. He set up his own photographic studios in 1906, working freelance for papers such as the Illustrated London News.
Influenced by the Vorticist movement, Malcolm Arbuthnot turned to painting in 1926. He held one-man exhibitions at the Fine Art Gallery and exhibited at the Royal Academy.
If you would like to purchase a work or require further information please contact us:
Knighton Fine Art, 2,Broad Street, Knighton, LD7 1BL. Telephone: 01547 528052
Please click on image for enlargement.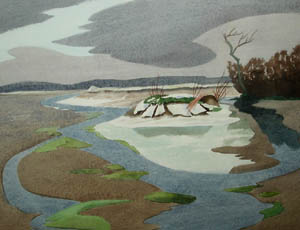 Title: Island
Price:

SOLD