Julienne Braham
Julienne trained at Reading University and has had exhibitions as far afield as Hammersmith,
King's Lynn and the Royal West of England Academy.
Drawing is central to her life as an artist and her paintings are essentially celebratory, an expression of empathy with the subject,
a distillation of visual impression and inner feeling.
If you would like to purchase a work or require further information please contact us:
Knighton Fine Art, 2,Broad Street, Knighton, LD7 1BL. Telephone:01547 528052
Please click on image for enlargement and again to remove it.






Title: Wintry Moon
Medium: Oil
Size: 60x50cm
Price: £850
Title: Orange Tip Butterfly
Medium: Mixed Media
Size: 16x20cm
Price: £150






Title: Bleddfa Church
Medium: Oil on Paper
Size: 25x25cm
Price: £300
Title: Tuscan Landscape
Medium: Mixed Media
Size: 20x25cm
Price: £250






Title: Colonsay
Medium: Mixed Media
Size: 25x25cm
Price: £300
Title: Harbour Wall, Gorran Bay
Medium: Watercolour
Size: 38x30cm
Price: £375






Title: Apple Trees and Blackbird
Price:

SOLD

Title: Snowed In
Price:

SOLD






Title: Venice
Price:

SOLD



Title: Farm below Great Rhos
Price:

SOLD






Title: Lerryn, Low Tide
Price:

SOLD

Title: Come Fly with Me 4
Price:

SOLD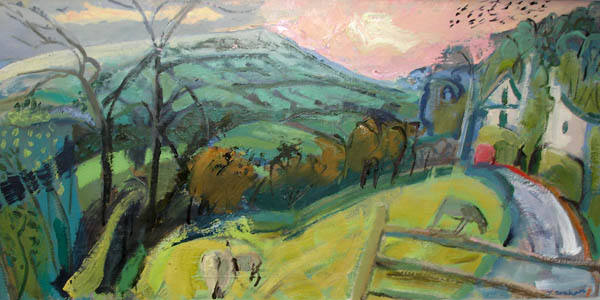 Title: Black Hills
Price:

SOLD