John Bratby (1928-1992)
John Bratby was a painter, novelist and teacher. He studied at Kingston School of Art
and the Royal College of Art and was elected a RA in 1971.
John Bratby held regular exhibitions at the Beaux Arts Gallery and a retrospective was held at the National Portrait Gallery in 1991.
If you would like to purchase a work or require further information please contact us:
Knighton Fine Art, 2,Broad Street, Knighton, LD7 1BL. Telephone:01547 528052
Please click on image for enlargement and again to remove it.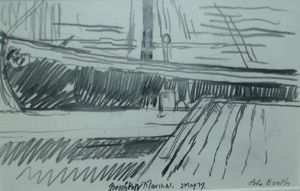 Title: Brighton Marinas
Medium: Pencil
Size: 20x13cm
Price: £550