Dorothy Charlesworth
Dorothy turned to Art in 2010 after a career in Librarianship.
She studied at Aquinas College in Stockport and, more recently, attended an Aberystwyth outreach course.
Dorothy paints in her conservatory, mostly in acrylic, and loves to paint the sea.
However she embraces new challenges and likes to try new materials and mixed media.
If you would like to purchase a work or require further information please contact us:
Knighton Fine Art, 2,Broad Street, Knighton, LD7 1BL. Telephone:01547 528052

Please click on image for enlargement and again to remove it.






Title: Montgomery
Price:

SOLD



Title: Llangollen
Medium: Emulsion
Size: 40x30cm
Price: £160







Title: Lake Vrynwy
Medium: Emulsion
Size: 40x30cm
Price: £160

Title: Claerwen
Medium: Emulsion
Size: 40x30cm
Price: £160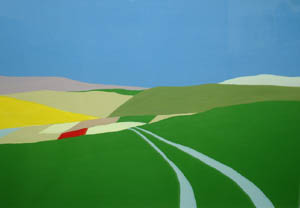 Title: Bright Fields
Price:

SOLD