Beryl Cook OBE (1926-2008)

Beryl Cook left school at fourteen, showing little talent for painting and worked in a variety of jobs.
In 1946 Beryl married her childhood friend John and the following year they left to live in Southern Rhodesia. This move was to prove a turning point for Beryl. One day she picked up some paints and started a picture. She enjoyed it so much she could not stop. She painted on any surface she could find, scraps of wood, fire screens and most notably a breadboard, as can be seen from her famous early painting of Bowling Ladies.
Bernard Samuels of the Plymouth Art Centre became aware of this 'local phenomenon' and in 1975 he finally convinced her to have an exhibition. It was, of course an enormous success. The show received a great deal of publicity, which resulted in a cover and feature in the Sunday Times Magazine followed by a swift phone call from London's Portal Gallery. The following year, Beryl Cook had her first London exhibition. It was a sell out and the start of an exceptional relationship with Portal, where she exhibited continuously for thirty two years. She was made an OBE in 1995.
If you would like to purchase a work or require further information please
contact us
:
Knighton Fine Art, 2,Broad Street, Knighton, LD7 1BL. Telephone:01547 528052

Please click on image for enlargement and again to remove it.






Title: Strip Poker
Price:

SOLD



Title: A Full House
Medium: Print
Size: 40x45cm
Price: £300
Information: Signed Print 163/650






Title: Poetry Reading
Price:

SOLD

Title: Bridge Players
Price:

SOLD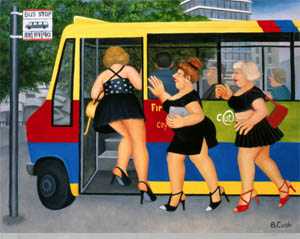 Title: Bus Stop
Price:

SOLD