Roy Turner Durrant (1925 - 1998)

Roy Turner Durrant was a painter and poet who studied at Camberwell School of Arts and Crafts.
He was influenced by Keith Vaughan and John Minton.
Durrant's work became more abstract in the 1950s. He said that any titles were meant to be interpreted
as poetry in order to engender a state of mind, rather than being a literal description.
If you would like to purchase a work or require further information please contact us:
Knighton Fine Art, 2,Broad Street, Knighton, LD7 1BL. Telephone:01547 528052

Please click on image for enlargement and again to remove it.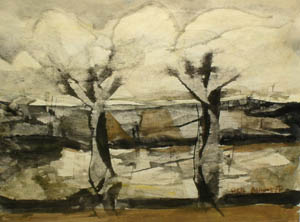 Title: Abstract Trees (1956)
Medium: Mixed Media Size: 25x20 cm Price: £850