Martin Dutton
Martin Dutton studied Graphic Design at the Manchester College of Art and then worked in advertising.
Since his retirement from teaching and lecturing in 1980, he has worked in watercolour, using the landscape as inspiration.
If you would like to purchase a work or require further information please contact us:
Knighton Fine Art, 2,Broad Street, Knighton, LD7 1BL. Telephone: 01547 528052

Please click on image for enlargement and again to remove it.






Title: Offa's Dyke Dawn
Medium: Watercolour
Size: 12x30cm
Price: £200
Title: Offa's Dyke - Spring
Price:

SOLD







Title: Offa's Dyke Winter
Price:

SOLD

Title: Offa's Dyke Night
Price:

SOLD






Title: Cottage-Beguildy-Spring
Price:

SOLD



Title: Bono's Cottage
Medium: Watercolour
Size: 12x35cm
Price: £200






Title: Moon, Mott and Bailey
Price:

SOLD



Title: Abermule
Price:

SOLD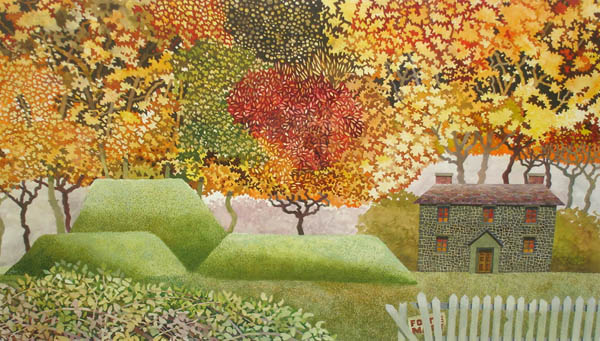 Title: Moat Farm and Mott
Price:

SOLD






Title: Moat Farm
Price:

SOLD



Title: Bettws Church
Price:

SOLD