Jane Harding
Jane Harding is an experimental printmaker. She uses unconventional printmaking techniques to explore the natural world.
She celebrates the natural environment, explores climate change, and the consequences of human exploitation of the planet. characterised by uncertainty.
.If you would like to purchase a work or require further information please contact us:
Knighton Fine Art, 2,Broad Street, Knighton, LD7 1BL. Telephone:01547 528052

Please click on image for enlargement and again to remove it.







Title: Ice Melt III
Medium: Acrylic
Size: 60x40cm
Price: £380
Title: Ice Melt IV
Medium: Acrylic
Size: 40x40cm
Price: £375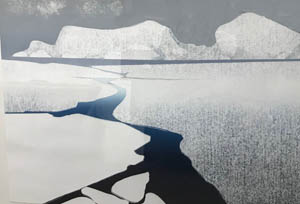 Title: Ice Melt
Price:

SOLD