David Henry
David Henry was born in Pembrokeshire and studied at Newport (Monmouthshire) College of Art and Design.
He was an Art Teacher for over thirty years before retiring to South Shropshire.
David works in a variety of media and a range of subject matter.
However, recent work includes mainly rural landscapes and town scenes in the " border country " around where he lives.
If you would like to purchase a work or require further information please
contact us
:
Knighton Fine Art, 2,Broad Street, Knighton, LD7 1BL. Telephone:01547 528052
Please click on image for enlargement and again to remove it.






Title: Knighton Church Medium: Oil
Size: 20x15cm
Price: £180
Title: Clun Bridge Medium: Oil
Size: 20x15cm
Price: £180






Title: Clee Hills Medium: Oil
Size: 20x15cm
Price: £180
Title: Ludlow Church Price:

SOLD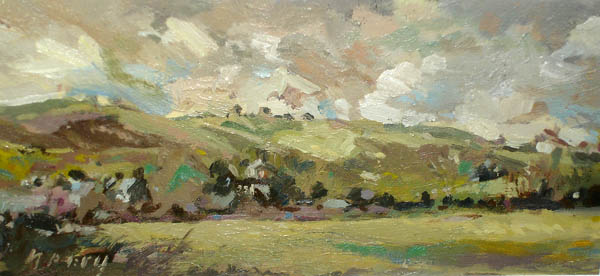 Title: View to Clun Medium: Oil
Size: 30x15cm
Price: £200