Rowland Hilder (1905-1993)


Rowland Hilder was a British landscape artist and book illustrator.
Born in New York, In 1915, his English father moved the family to Kent,
where his natural talent for drawing was recognized by a schoolmaster .
He went on to study at Goldsmith's College in London. Hilder began building a reputation as an accomplished watercolourist of quintessential Kent landscapes, rending the sky and earth with a sensitively modulated palette.
If you would like to purchase a work or require further information please contact us:
Knighton Fine Art, 2,Broad Street, Knighton, LD7 1BL. Telephone:01547 528052
Please click on image for enlargement and again to remove it.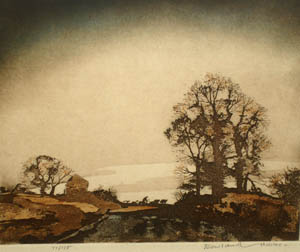 Title: Autumn Scene
Medium: Signed Print
Size: 60x40cm
Price: £260
More info: 77/175