Kath Hobby
From a small child art has been Kath's passion!
She draws her inspiration mostly from the surronding countryside and uses a varity of mediums
to produce work influenced by Cézanne and his wonderful use of light and colour.
If you would like to purchase a work or require further information please contact us:
Knighton Fine Art, 2,Broad Street, Knighton, LD7 1BL. Telephone:01547 528052

Please click on image for enlargement and again to remove it.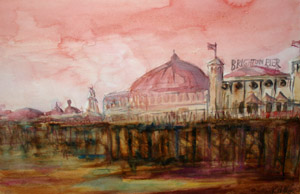 Title: Brighton Pier
Price:

SOLD