Edgar Holloway (1914-2008)
Edgar Holloway was an etcher from the age of 14, working for his father.
He is best known for a lifelong series of etched self portraits.
Other sitters included T S Eliot and Stephen Spender.
. He spent much time at Capel-y-Ffin, once home of Eric Gill.
After many years as a graphic designer, Edgar Holloway returned to watercolours.
If you would like to purchase a work or require further information please contact us:
Knighton Fine Art, 2,Broad Street, Knighton, LD7 1BL. Telephone:01547 528052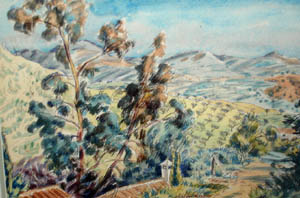 Title: La Herradura
Medium: Watercolour
Size: 40x30cm
Price: £350