Lois Hopwood
Lois Hopwood moved to Castle Hill Knucklas in 2003, she exhibits locally, runs art workshops
and sometimes helps in the Pottery.
She studied Fine Art at the University of Newcastle Upon Tyne 1986,
has an MA in film Design from the NFTS 2002 and.won the Discerning Eye Drawing prize in 2010.
If you would like to purchase a work or require further information please contact us:
Knighton Fine Art, 2,Broad Street, Knighton, LD7 1BL. Telephone:01547 528052
Please click on image for enlargement and again to remove it.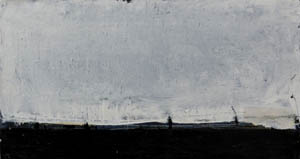 Title: Dark Night
Medium: Gouache
Size: 40x20cm
Price: £240







Title: Little Green
Medium: Mixed Media
Size: 20x15cm
Price:

SOLD



Title: Shed in the Landscape
Price:

SOLD




Title: A Long Landscape
Price:

SOLD