Lincoln Pugh Jenkins(1901-1988)
Lincoln Pugh Jenkins was born in Presteigne and studied at Leicester College of Art.
He taught at Birmingham School of Art. He moved to Bangor in 1970 but lost his sight in 1977.
Known for his landscapes, he was influenced by Cubism and his later work concentrated on sunlight and patterns.
If you would like to purchase a work or require further information please contact us:
Knighton Fine Art, 2,Broad Street, Knighton, LD7 1BL. Telephone:01547 528052
Please click on image for enlargement and again to remove it.






Title: Bryn Bella - Trees
Price:

SOLD



Title: Conwy Mountain and Estuary
Price:

SOLD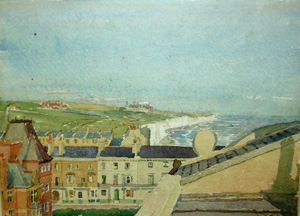 Title: Brighton
Medium: Watercolour
Size: 26x18cm
Price: £180