Adrian Jervis
Adrian, having worked for many years as a gardener, uses a combination of found and salvaged wood and metal
to create small and large Bird Sculptures.
His years of observing nature shows through in his striking pieces which capture the mannerisms of each individual species.
If you would like to purchase a work or require further information please contact us:
Knighton Fine Art, 2,Broad Street, Knighton, LD7 1BL. Telephone:01547 528052
Please click on image for enlargement and again to remove it.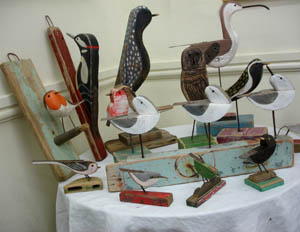 Title: Birds
Price: Various