Ciarį Lewis
Ciarį Lewis was born in Dublin. She studied at the College of Marketing and Design in Dublin before moving to study Textile Printing in Yorkshire. She is a member of Abstract Edge and exhibits in Herefordshire and Shropshire, where she now lives. Ciarį Lewis's work ranges from expressionistic realism to the purely abstract.
If you would like to purchase a work or require further information please contact us:
Knighton Fine Art, 2,Broad Street, Knighton, LD7 1BL. Telephone:01547 528052
Please click on image for enlargement and again to remove it.

Title: Donegal
Price:

SOLD






Title: Llanberis in the Snow
Medium: Oil on Board
Size: 30x30cm
Price: £380

Title: Hedgelines in Winter
Medium: Mixed Media
Size: 15x15cm
Price: £250






Title: Heather, Llangurig
Price:

SOLD

Title: Rushes at Llangurig
Medium: Mixed Media on Canvas
Size: 20x10cm
Price: £325







Title: Poppies
Medium: Acrylic
Size: 23x12cm
Price: £200
Title: Thicket Treachery
Medium: Mixed Media on Canvas
Size: 20x15cm
Price: £275







Title: Stanage Estate Walk
Price:

SOLD



Title: Chapel
Price:

SOLD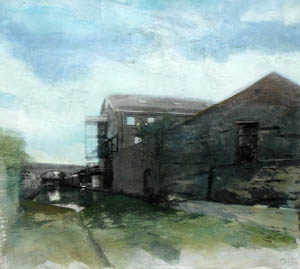 Title: The Bond
Price:

SOLD