Josh Partridge
Josh Partridge grew up in Pembrokeshire, moving to Presteigne in 2011.
She studied at the Bath Academy, the Slade School of Art and in Japan.
She is especially drawn to the curves and zig-zagging lines of the hedgerows and the deeply etched ploughlines in her work.
If you would like to purchase a work or require further information please contact us:
Knighton Fine Art, 2,Broad Street, Knighton, LD7 1BL. Telephone:01547 528052

Please click on image for enlargement and again to remove it.






Title: Radnorshire Abstract Medium: Watercolour
Size: 22x18cm
Price: £520
Title: Presteigne Landscape
Medium: Watercolour
Size: 20x15cm
Price £520






Title: Parc y Pratt
Medium: Oil
Size: 30x25cm
Price: £550
Title: Cows II Parc y Pratt Medium: Oil
Size: 30x25cm
Price: £550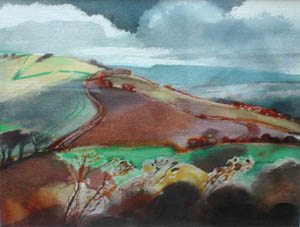 Title: View from Stonewall Hill Medium: Water Colour
Size: 422x18cm
Price: £520