Rhoda Partridge (1920 - 2016)
Rhoda married in 1939, having five children by the time she was 30. She took up gliding and pottery
for many years and in 1990 at the age of 70 decided to study painting.
She won a place at Hereford College of Art and became known for her flower paintings and those of fantastical beasts.
If you would like to purchase a work or require further information please contact us:
Knighton Fine Art, 2,Broad Street, Knighton, LD7 1BL. Telephone:01547 528052

Please click on image for enlargement and again to remove it.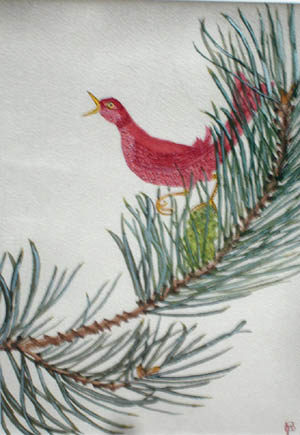 Title: Singing Bird
Medium: Watercolour
Size: 17x28cm
Price: £240






Title: Eryngium
Price:

SOLD



Title: Magnolias
Price:

SOLD