Usha Pearce
Usha Pearce is an experimental abstract painter, often working with a series of ideas
evoked by an observation, a news item or a gallery visit.
Working in mixed media and combining techniques, colour and layering are used both in an additive and subtractive way
to create a balance of form and space that allude to something representational or to a sensory experience.
If you would like to purchase a work or require further information please contact us:
Knighton Fine Art, 2,Broad Street, Knighton, LD7 1BL. Telephone:01547 528052

Please click on image for enlargement and again to remove it.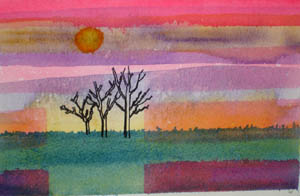 Title: After Eaves Landscape
Medium: Mixed Media
Size: 20x15cm
Price: £90