Sara Philpott
Sara Philpott is a painter and printmaker based in Mid-Wales.
Her original prints use innovative monotype techniques, which in turn influence her painting in terms of composition and multi-layering.
If you would like to purchase a work or require further information please contact us:
Knighton Fine Art, 2,Broad Street, Knighton, LD7 1BL. Telephone:01547 528052

Please click on image for enlargement and again to remove it.






Title: Caerddyn Rings
Medium: Oil
Size: 30x30cm
Price: £215

Title: Town at Night
Medium: Oil
Size: 30x30cm
Price: £230






Title: Top of the Town
Price:

SOLD



Title: Pathway
Medium: Oil on Board
Size: 30x30cm
Price: £270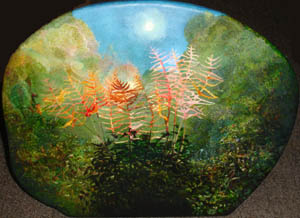 Title: Astibes
Medium: Oil Size: 46x36cm Price: £280