Roland Pitchforth (1895-1982)
Roland Pitchforth studied at Wakefield and Leeds Colleges of Art and then at the Royal College of Art.
He was an official War Artist and began exhibiting at the RA in 1953.
He taught at many Schools of Art including Camberwell and St Martin's.
His work is in the Tate Gallery and the Victoria and Albert Museum as well as in many provincial galleries.
If you would like to purchase a work or require further information please
contact us
:
Knighton Fine Art, 2,Broad Street, Knighton, LD7 1BL. Telephone:01547 528052
Please click on image for enlargement and again to remove it.






Title: Little Haven Pembrokeshire Coast
Price:

SOLD



Title: Maldon Bridge, Essex
Medium: Watercolour
Size: 55x35cm
Price: £340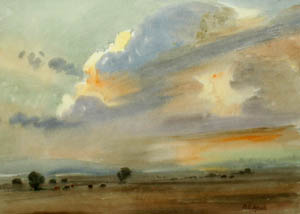 Title: Evening Sky
Price:

SOLD