Mo Shankland
Mo Shankland graduated from the Glasgow School of Art in 1998 and has worked since that time as a ceramicist,
exhibiting in the UK and Japan.
Her three-dimensional work explores the character of clay as a medium.
The forms created are an expression of observations and memories. There is often a Japanese infuence to her work.
Mo Shankland's pots have elements of the kimono about them whilst her bowls convey the essence of the sea's tidal rhythm.
If you would like to purchase a work or require further information please contact us:
Knighton Fine Art, 2,Broad Street, Knighton, LD7 1BL. Telephone:01547 528052

Please click on image for enlargement and again to remove it.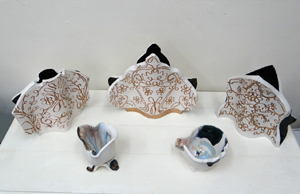 Title: Ceramics
Price: Various