Peggy Somerville
Born into an artistic family, Peggy had her first solo exhibition at the
Claridge Gallery in London in 1928. All 100 pictures were sold.
"Nine year-old artist who has never had a lesson and whosework shows genius" was a headline at the time.
Peggy continued painting all her life but family constraints contributed to a lack of progress in later years.

If you would like to purchase a work or require further information please contact us:
Knighton Fine Art, 2,Broad Street, Knighton, LD7 1BL. Telephone :01547 528052
Please click on image for enlargement and again to remove it.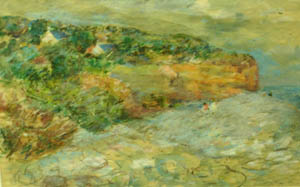 Title: Pembroke Coastline
Medium: Watercolour
Size: 38x26cm
Price: £480






Title: Farm Buildings, Middleton
Price:

SOLD

Title: Cavendish
Price:

SOLD