Anthea Stilwell
Anthea Stilwell studied at the Ruskin School of Drawing, Oxfordand then taught art at Harrow School for twenty five years.
She now lives and works in Herefordshire.
Her range of media is as varied as her subject matter and her work is wide-ranging, often semi abstract and built on drawing.
Her exhibitions include, Open Studios in H Art week, Ludlow Assembly Rooms, Dore Abbey Music festival,
Discoed "Stations of the Cross "and " The Last Supper "and many other local exhibitions.
She also exhibited last year, with three other artists for a week in Cork Street at The Gallery, London.
If you would like to purchase a work or require further information please contact us:
Knighton Fine Art, 2,Broad Street, Knighton, LD7 1BL. Telephone:01547 528052
Please click on image for enlargement and again to remove it.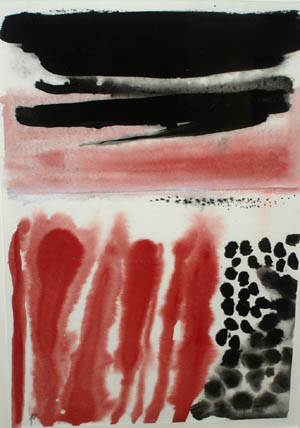 Title: Shoreline I
Medium: Ink and Gouache
Size: 25x35cm
Price: £280






Title: River Reflection I
Medium: Oil
Size: 35x25cm
Price: £390
Title: River Reflection I I
Medium: Oil
Size: 35x25cm
Price: £390






Title: Church Tower
Price:

SOLD

Title: Winter Landscape Medium: Oil/Graphite
Size: 30x20cm
Price: £280






Title: Medieval Angel
Medium: Mixed Media
Size: 27x35cm
Price: £280
Title: Over the Meadows
Medium: Acrylic and Ink
Size: 15x15cm
Price: £120







Title: Shoreline II
Price:

SOLD



Title: Study of Approaching Storm
Price:

SOLD









Title: Flower Angel I
Price:

SOLD



Title: Two Sheep
Price:

SOLD









Title: Sheep 1
Price:

SOLD



Title: Sheep 2
Price:

SOLD









Title: Two Figures
Price:

SOLD



Title: Great Grey Owl
Price:

SOLD






Title: Offa's Dyke II
Price:

SOLD



Title: Towards Offa's Dyke
Price:

SOLD






Title: Tortoise Cat
Price:

SOLD

Title: Mother and Child
Price:

SOLD