Peter Stilwell
Peter Stilwell's work is concerned primarily with the natural world, embracing its history and precarious future,
as well as man's place in that world.
Though a full time teacher of English and Classics at Harrow School (1971-2004) he has always drawn and painted and began contributing to mixed shows, notably at the New Grafton Gallery and The Bloomsbury Workshop in London, in the 1990s.
He now lives in Herefordshire with his wife Anthea, who is also a painter.
Since 2003 he has shown mainly with Abbott and Holder Ltd, London, where his fifth one-man exhibition
was held during April two years ago.
If you would like to purchase a work or require further information please contact us:
Knighton Fine Art, 2,Broad Street, Knighton, LD7 1BL. Telephone:01547 528052
Please click on image for enlargement and again to remove it.






Title: Predator and Prey
Price:

SOLD

Title: Walking on Water I
Medium: Chalk/Cut Paper
Size: 27x30cm
Price £200






Title: Heron and Dyke
Medium: Mixed Media
Size: 40x42cm
Price: £275
Title: Shorebird
Price:

SOLD






Title: Swimming Bird 1
Price:

SOLD

Title: Two White Birds and Threee Palms
Price:

SOLD






Title: Flying Bird above Two Palms
Price:

SOLD



Title: Flying Bird above Three Palms
Price:

SOLD









Title: Partridge and Black Butterflies
Medium: Mixed Media and Paper
Size: 32x36cm
Price: £250
Title: Striped Bird and Butterfly
Price:

SOLD






Title: Oak
Price:

SOLD

Title: Looking Down on a Wood
Price:

SOLD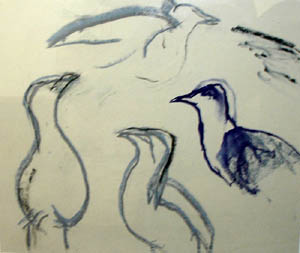 Title: Seabirds
Price:

SOLD






Title: Two Birds in Flight 1
Price:

SOLD

Title: Two Birds in Flight 2
Price:

SOLD









Title: Kite Landscape 1
Price:

SOLD

Title: Swallows and Church 2
Price:

SOLD