Les Symonds
Les Symonds rediscovered woodturning after a gap of thirty years.
His work is featured in galleries in both Britain and America.
Les Symonds works mainly with home grown, storm damaged material.
He strives to find an atheistically pleasing line in each piece of work.
If you would like to purchase a work or require further information please contact us:
Knighton Fine Art, 2,Broad Street, Knighton, LD7 1BL. Telephone:01547 528052

Please click on image for enlargement and again to remove it.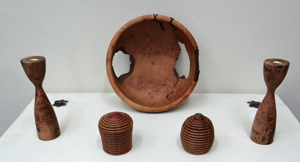 Title: Wood Turning
Price: Various