Marilyn Tippett

Although Marilyn has painted and drawn throughout her life she took to printmaking and then book making later in life.
She trained in printmaking in Nottingham with Mark Beavan and in Powys at the Sidney Nolan Trust
and bookbinding at South Nottinghamshire College.
Marilyn was introduced to Book Art at Westhope College where she was tutored by Lin Charleston .
She is a founder member of the Marches Book Art Group and has exhibited widely throughout the UK.

If you would like to purchase a work or require further information please contact us:
Knighton Fine Art, 2,Broad Street, Knighton, LD7 1BL. Telephone:01547 528052
Please click on image for enlargement and again to remove it.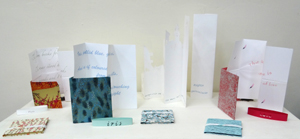 Title: Book Art
Price: Various