Judy Tucker
Judy Tucker was Head of Art at King's College School in Wimbledon.
She left teaching and moved to Brixton to pursue a career as an artist.
Judy is now Senior Lecturer at Leeds University.
If you would like to purchase a work or require further information please contact us:
Knighton Fine Art, 2,Broad Street, Knighton, LD7 1BL. Telephone:01547 528052

Please click on image for enlargement and again to remove it.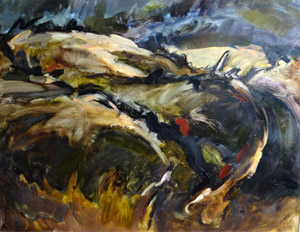 Title: Exmoor
Medium: Oil
Size: 75x21cm
Price: £300