Malcolm Turner
Malcolm moved to Herefordshire in 1975 and set up a pottery in St Weonards.
He worked for a time as 'tourneur de serie' for Catherine Vanier in Provence.
Malcolm specialises in tiles and tableware and is interested in making large individual Raku pieces.
If you would like to purchase a work or require further information please contact us:
Knighton Fine Art, 2,Broad Street, Knighton, LD7 1BL. Telephone:01547 528052

Please click on image for enlargement and again to remove it.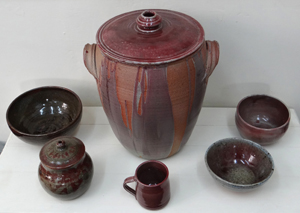 Price: Various